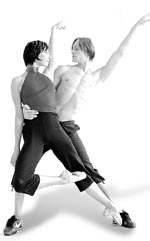 Professional History


Born the 26th of December 1965 in Foggia, in the south of Italy, as a child he "emigrated" with his family to the northeast. After high school, he devoted himself to the dramatic arts, attending the masters from 1984-1986 at the Scuola Regionale di Recitazione del Teatro Verdi (the Verdi Theatre's Regional School of Drama) of Padova. Here he learned how to be an actor under the guidance of the Checco Rissone. At the same time he cultivated his music studies at Il Conservatorio di Musica "Cesare Pollini" di Padova (The Conservatory of Music "Cesare Pollini" of Padova), where he graduated in flute in 1987 under Professor Clementine Hoogendoorn Scimone. In addition, at the same conservatory he attained the post diploma in Music Didactics (Didattica della Musica) in 1993. In 2009 he achieved an M A in "Video Production and Film Studies" at Thames Valley University, London (UK).

Musician, actor, and, above all, director, Stefano Patarino loves to perform with musicians and make music with actors. From the north to the south of Italy he has organized various works for theatre including: classic Latin and Greek comedy and tragedy, Baroque melodrama, musical, works by living authors, cabaret performances, la Commedia dell'Arte, children's shows, and contemporary musical theatre.

Of notable mention of his works as a director are A Midsummer Night's Dream by Shakespeare with music by Mendelssohn, and Candide, a musical-opera by Leonard Bernstein. Both of these works were organized for the Pergine Open Show Festival (www.perginepsa.it) in July 2000 and July 2002, with musical direction by Juliżn Lombana.



In 2003, his work as a director intensified with four significant works: in February, L'Opera delle Filastrocche (The Nursery Rhymes Opera) by Rodari-Savona for La Fenice of Venice with orchestral director Maurizio Dini Ciacci; in May, Carmen by Bizet directed by Andriy Yurkevych for the State Theatre for Opera and Ballet "S. Kruscelnytska" of Lviv in Leopoli in the Ukraine; in September, Noah's Flood by Benjamin Britten for the Colon di Bogotż› Theatre in Colombia (a reprise of Bepi Morassi's work produced by La Fenice of Venice) with Juliżn Lombana on the podium; and in November La Clemenza di Tito by Baldassarre Galuppi, directed by Giuliano Medeossi for the Conservatory of Music "Cesare Pollini" of Padova.

In 2006, he directed Dido and Aneas by Henry Purcell and L'Elisir d'Amore by Gaetano Donizetti, working with the conductor Kim Joo-Hyun in the Belcanto Art Center at the University of Suwon (South Korea). In the same year, for the Conservatory of Music "Francesco Venezze" of Rovigo in coproduction with "Teatro Sociale" of the same town, he staged The Little Sweeep by Benjamin Britten and, in 2007 Amahl and the Night Visitors by Giancarlo Menotti, with the conductor Luca Paccagnella.

In 2010 his short film "The Vicious Circle of Prejudice" was screened at the Skepto Film Festival of Cagliari (Italy), the Rob Knox Film Festival of London, at "Un Film per la Pace" festival of Medea (Gorizia, Italy), at Festroia Film Festival of Setubal (Portugal), and at the River Film Festival of Padova (Italy). His experimental video "Close up on Sound" was screened at the Gimli Film Festival 2010 (Manitoba, Canada).
He is professor of acting and opera at the Conservatorio di Musica "Francesco Venezze"di Rovigo (www.conservatorio-rovigo.it) - where he was vice-director from 2004 to 2006. Also he was professor at the music faculty of the University of Suwon in South Korea (music.musicsw.co.kr) in the biennium 2006-2007. .

List of Artistic Experience

Other Activities



Stanislavskij Workshop


The Conservatory of Music of Rovigo (Italy) each academic year, thanks to the professor Stefano Patarino, tends the "Stanislavskij Workshop", an acting course structured in 12 two-hour meetings. Each meeting includes acting improvisation and character identification exercises, in following with the famous Stanislavsky method (see "An Actor prepares" by Kostantin Stanislavsky). This training allows the student to create a character without loosing himself: the actor is led in exploring his "inner life", since he creates a character, that is whole in his psychology, gestural expressiveness, sonority and communicative skill.




The Stanislavsky method is based on true life emotions: this is the reason why the workshop is formulated so that all people can greatly benefit. Therefore the meetings are open not only to future and current actors, but also to musicians, artists, teachers and others who want greater consciousness of their own emotional life, both in the artistic and in the everyday ambit.